This is the Making Of video for Oranguerrilla, my student film for the Academy of Art University, San Francisco. I really wanted to make this backstage video as it brings together the countless steps I went through to make my film.
Roughly, I spent 1600 hours of work on the project from concept art to the final edit, spread over two and a half years.
Direct link: YouTube Vimeo
Italian version here: [italiano]
Pencils are my tool and I studied traditional animation, but I'm also my own kind of 2D Technical Director and I had to push my skills to new heights.
Some research was necessary to define a workflow able to take my drawings on paper to a fully rendered animation, with light and shadows, shaded objects, special effects and camera moves. I don't use Macs anymore and luckily there's a good selection of free and open source software able to help animators and filmmakers. This is the breakdown of the workflow: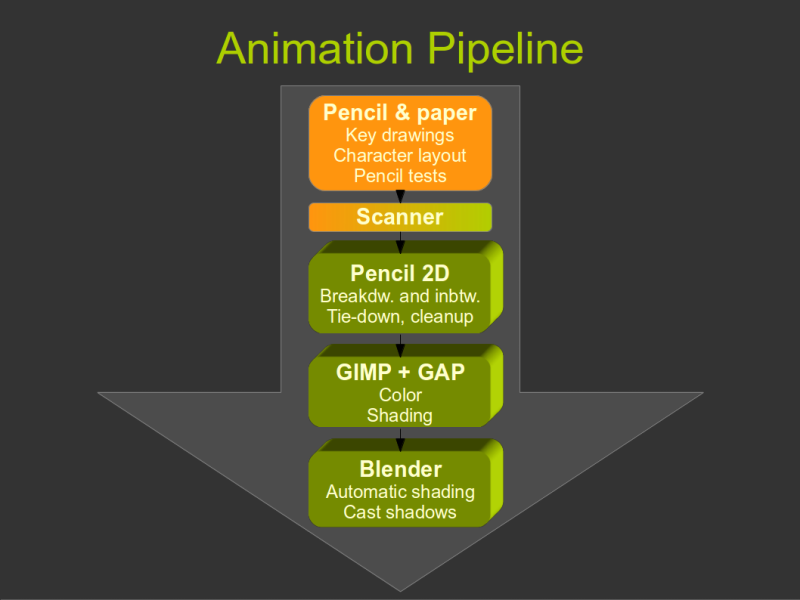 All these software are free to download from their project websites:
blender.org
gimp.org
pencil2d.org
If I could go back in time I would spend more work on the construction of the characters and I'd draw them day and night for weeks. I found out very early that practice is time well spent. Also, doing warm-up drawings at the beginning of the animation session ensures a good control over gestures and line quality.
The complete short is 2'15" (excluding credits).
I've been asked how much would ideally cost a short like this if it were commissioned. The answer is: roughly $36,000, all-inclusive!
Thanks to all the instructors and friends who gave me useful suggestions.
I really hope this is the last film I do on my own.
These are some random screengrabs from various production stages.
Here you can find some screenshots of Oranguerrilla.