https://vimeo.com/20940627
Watch on: Vimeo | YouTube Download: Ogg | WebM | MP4
I finally completed my animated short Sandcastled.
A girl finds herself in front of a big misconstruction, when a boy fights the waves to protect his sandcastle.
I hate to be misunderstood, and this is the reason why I chose to animate this story.
I spent roughly one and a half months on story development, character design and storyboard/animatic, two and a half months animating, one month on digital coloring and compositing.
My brother Carlo composed an original soundtrack for the film.
Story development
I come from a town on the shore in Sicily, so most of my memories are related to the sea, the beach, pebbles and sand. That's the setting.
Since this is an animated short with no dialogue, the story had to be told in a visual fashion, and I needed elements and actions that could speak for the characters.
Character Design and Visual Development
The girl has a starfish earring. Starfishes are a bit rare on the beaches of my island, so I like to think of her as a rare beauty you don't find often.
The story is set in a timeless era. We only see a beach with no building of any kind, it could be a thousand years ago or even into the future.
On the background there's a cliff with an interesting shape, like the one visible from a beach in Salina, a small island not far from where I'm from.
The boy wears his hair in a top knot, like I used to. This is also a reference to the Japanese legend of Urashima Taro.
Here are some early concepts and designs:
Color Grading
Here are the color script and palettes for sunset, night and sunrise, the three sequences of the movie.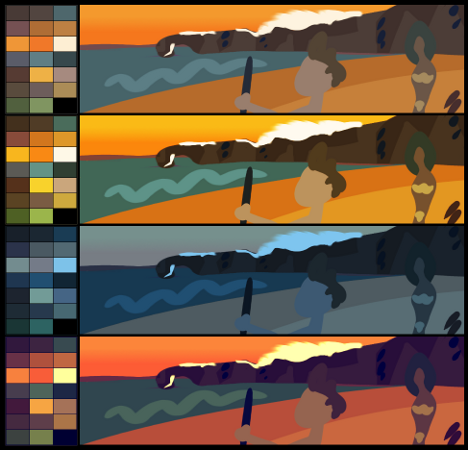 Storyboard
Animation
I know, the animation is somehow crude, most shots have only keyframes and no inbetweens. I also think I didn't take full advantage of the 2D medium. Truth is that with this short I stepped into a field a bit uncomfortable to me, having to animate partly clothed human anatomy. And waves are only three frames per shot! It's cheating, I know… but it works! Anyway, I animated this traditionally, pencil and paper on an animation desk, rolling sheets with fingers.
Digital Ink and Paint
A batch scanner is a cool thing! Once I acquired all the drawings I adjusted the levels to get rid of the lighter lines, leaving only the darkest ones (tutorial here). So, there never was a real cleanup process, I just kept the pencil tests. But I like how it looks, a bit sketchy. Hey, I'm a sketchy person after all!
All digital cleanup, coloring and compositing was done using only FOSS (Free and Open Source Software): GIMP+GAP and Blender on a GNU/Linux system.
Compositing and CG Animation
I used Blender to composite all assets in a 3D environment, so I could easily perform camera moves, focus racking, glow, color grading, cast shadows.
Formats for online distribution
In year 2011, it's sad that there is no definitive video codec for online distribution. To be sure to make the movie playable on every device and system I had to encode it into several formats: H.264, WebM, Theora, Mjpeg, as well as uploading it to Vimeo and YouTube.
That's it!
Thanks to all the friends who gave me their feedback on this project.