Watch on: Vimeo | YouTube Download: Ogg | WebM | MP4

"Gone with the spurt" is my latest animated short.
I started it as a final project for the class Traditional Animation 1 at AAU, but I eventually decided to bring it beyond the required pencil tests and add sound, color and shading.
The dog is animated the old-school way: blue pencil on animation paper, and this is why the outline looks a bit fuzzy. Analog drawings, how quaint…
The frames were scanned and processed with GIMP for clean-up, check this brief tutorial I wrote about this solution. Nothing is GIMPossible!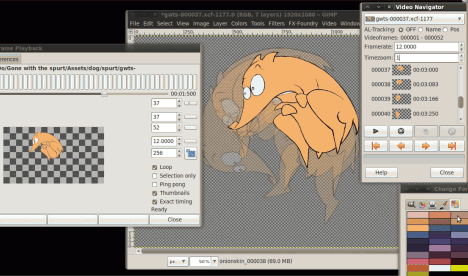 This is a 2D animation, but at some point it gets up to 2.5D! Using Blender I could stack different assets and move around them in a 3D environment. However, the drawings are flat planes, not 3D elements, and this is why we call it 2.5D. But it fools the eye, and it's a technique very similar to the multiplane camera used in Disney Studios since the 1930's.
I also tried to squeeze in a subtle visual effect, the glow from the TV set. Well, maybe it's not so subtle…
This animated short was entirely made with free software: GIMP+GAP, Blender, Audacity, ffmpeg on GNU/Linux.
I got the idea after running into my neighbor walking the dogs in pyjamas (the neighbor was wearing the pyjamas, not the dogs).
I'd like to consider it as a deep reflection on the blindness toward the feelings and the basic needs of our closest friends, but this description might appear inappropriate…
The moral of this story? Suffering always finds its way out.